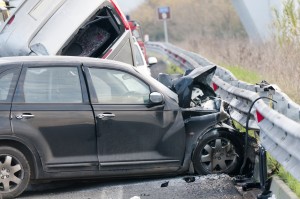 If someone you love dies in a car accident in South Carolina, it may be hard to know what to do. Once you have come through the initial shock of the death, you may wonder how you were going to pay for any funeral bills, medical bills or support loved ones left in the wake of this sudden death.
First you must determine who is at fault in the accident.
First, you must determine who is at fault in the accident. You can get this information from police officers on the scene, witnesses and accident reports. If your love one was not at fault in the accident, then the at fault driver's insurance company should pay up to the limits of insurance that were on the at-fault driver's vehicle. In South Carolina the minimum amount that a vehicle must carry is $25,000, however, the at fault driver may have had much more than this in applicable insurance coverage. The deceased loved one may have had other insurance that would be applicable to the accident such as medical payments coverage or underinsured motorist coverage. If your loved one was in someone else's car during the time of the accident, the owner of that vehicle may have insurance that is also applicable.
What type of case can be brought if your loved one was not a fault in the accident?
There are at least two different causes of action that need to be explored when a family member has been lost. The first is a survival action. This cause of action is to compensate the deceased family member's estate for any damages that the person would have been entitled to had they survived. These damages are personal to the person who was injured and passed away. These damages include, but are not limited to, medical bills, lost wages and pain and suffering. The second cause of action is for wrongful death. The wrongful death cause of action compensates the family of the deceased due to the family member's loss.
Who can recover damages in a wrongful death claim?
A deceased person's spouse and children can recover in a wrongful death claim. If there was no spouse or children, the action is for the benefit of the person's parents. If there was no spouse, children or parents, then the action is for the benefit of the heirs as defined by South Carolina law.
Who in the family can bring the lawsuit or negotiate a settlement with the at fault drivers' insurance company?
Under South Carolina law only the executor or administrator of the deceased person's estate can bring a wrongful death action . A lawyer will help you set up the estate for the purpose of bringing the wrongful death action.
Contact Our a Wrongful Death Lawyers Today
If you've lost a loved one in a accident that was caused by someone else's negligent or intentional act, you can trust Venus Poe, PA to work to get you the money and benefits you and your family are entitled to in order to put your life back together.
The information you obtain in this article is not, nor is it intended to be, legal advice. You should not read this article to propose specific action or address specific circumstances, but only to give you a sense of general principles of law. Application of these general principles to particular circumstances must be done by a lawyer who has spoken with you in confidence, learned all relevant information, and explored various options. Before acting on these general principles, you should hire a lawyer licensed to practice law in the jurisdiction in which you may have a case. Click here to contact us for a FREE Consultation.